$5 OFF your invoice for your review on Angie's list
Click the image below and write us a review on Angie's list. When you come in, mention you wrote the review and you'll get $5 OFF your invoice price.
Sign-up to receive coupons and specials by e-mail
About 2-3 times a year, we e-mail our registered customers Thank You Coupons that aren't published online. To receive such coupons, simply enter your name and e-mail address below.
We will not share your e-mail with anyone else. The only time when we'll email you is when we send out the coupons.
July Specials
* Free computer power supply install with a purchase of a power supply
* Free dust and dirt cleaning from the equipment with any service
$5 OFF for your online review (never expires)
How did we do? Did we fix your computer to your satisfaction? Give us a review on Yelp, Google+ or YellowPages to earn $5 OFF on your next purchase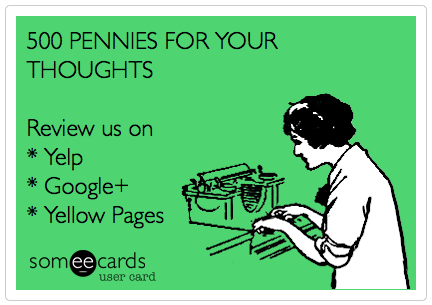 Are we your favorite computer repair shop in Pinellas? How do our prices compare to other computer repair shops in St. Petersburg area? What type of service did we perform for you: laptop repairs, printer repairs, IT consulting, web design, etc.?
Please write about your experience with us and receive $5 OFF on your next service or purchase. Here is what to do:
1. Go to our directory listing on any of the following sites:
2. Describe your experience with a services you have received from MaxTEK Solutions Inc. for others to see.
3. Show us your review when you come in for your next visit to receive $5 on any service or purchase charge.
Disclaimer and limitations: For existing customers only. Valid through 6/1/2014. Only one discount per purchase (maximum discount amount is $5 or 1 review per purchase). Customer can write multiple reviews but only one discount per purchase applies.
10% OFF for Students and Senior Citizens
Student and Senior Citizen specials for computer repairs
We are a family-owned, family-oriented computer repair shop and we value children and education. Students and Senior Citizens receive 10% off all computer repair services including repair of peripherals and accessories, and computer maintenance, with valid student or state ID.
Disclaimer: Offer valid for individual and home customer only. Not valid for business and commercial customers. Does not include graphic and web design services. Does not include the price of equipment or parts. Does not apply to at-home convenience fee. The 10% discount applies to the service charge only.

Compare our prices for computer repair services